Jonathan the tortoise has enjoyed 176 years of snacking on grass (and whatever else it is that tortises enjoy) and our beloved family dog, Jillie did not live to see 14 years.
I was running errands this morning and one of my stops was at a local business where Jenny the Golden Retriever goes to work each day with her owner. I mentioned to Joan that we just had our Golden put down this year and she shared that her other Golden was recently found to have a tumor and may not live much longer.
I came home and let our little mixed-breed dog, Sunny, smell Jenny on my hands before I washed them - a sort of second-hand socialization which any dog-lover would understand. I heard the story of Jonathan the tortoise and all sorts of questions came to mind.
Why a tortoise, cold-blooded and oft fictionalized as slow and dim-witted, lives so long and a warm, silky-furred and ever-present companion with undying devotion to a human master is so short lived?
Is it a sense of humor on behalf of our Creator? Perhaps it is to keep us in line reminding us that too much of a good thing is no good at all?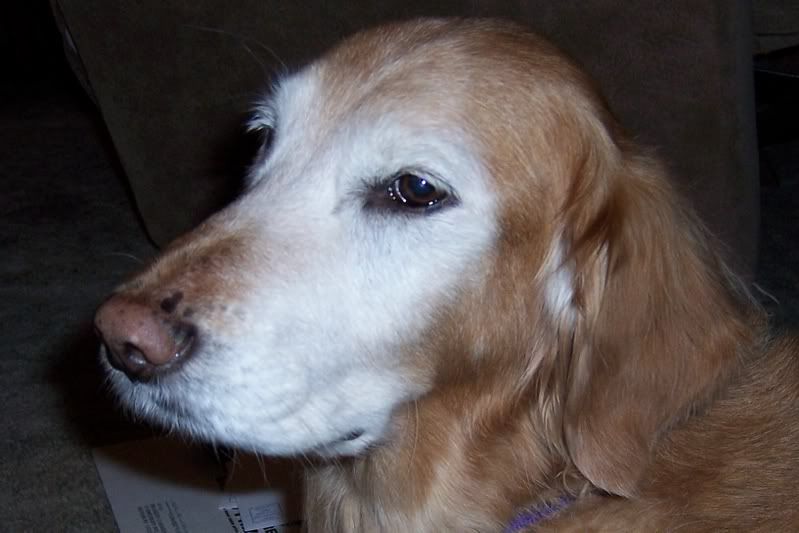 Jillie suffered from a suddenly collapsed lung the hours following a long and spirited romp in the snow. We had her put down within a week when it appeared she was not going to recover and only worsened. This was the way our family began Lent 2008 - we had our sweet companion of 13 years put down the day before Ash Wednesday.
Sunny gets plenty more attention these days as it is undivided - for now. We plan to add another pet to the family sometime within the next year. For some reason, I just cannot embrace the idea of a tortoise as a new 'family member'. I guess we'll take the bait God provides us, and adopt another sweet and furry pooch with a perpetually wound up tail and a yearning to please.
To everything there is a season and a purpose - I guess I'll just add this to a long list of 'whys' I want to ask God when (pray - IF) I meet Him.