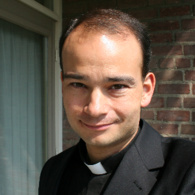 In the realm of podcasting (no, you don't have to have an mp3 player), there are several good Catholic podcasts you can subscribe to absolutely free. You can use iTunes or go directly to the
SQPN website
. I regularly listen to
The Daily Breakfast
which stars Fr. Roderick Vonhögen (pictured above after becoming a more fit, leaner man). Fr. Roderick (as he refers to himself) is a "priest of the Archdiocese of Utrecht, the Netherlands and CEO of the international Catholic New Media Organization
SQPN.com
."
You will not find Archbishop Fulton Sheen, but you will find entertaining and educational podcasts, some with a *gasp* contemporary edge (meaning: my 11 year old finds it very interesting and actually fun to listen to). The Daily Breakfast is a somewhat unique podcast. Fr. Roderick will discuss video games, the Sacraments, films, physical fitness, food, his various travels and other topics making it a vary eclectic mix indeed. With each show being only :30 in length, it is perfect for a brisk walk, daily workout or relaxing in your recliner. My son was amazed that a priest was a fan of Star Wars and he gladly listened to the show along with me (with a bit of catechesis mixed in). He then told his friend who also was amazed that a priest could be 'cool'.
Other shows include
SaintCast
,
That Catholic Show
,
Catholic Insider
,
Catholic Under the Hood
,
the retired show
Rosary Army
,
Catholic Family
and many others.
Want a bit of video with your listening? Check out
Fr. Z.
You can chat when he is inclined to open the chat room, listen to music, watch birds at his feeders, and spend some time with a very orthodox, very traditional, very astute Catholic Priest. You'll find his blog at
WDTPRS
- or - What Does That Prayer Really Say?
Check them out!