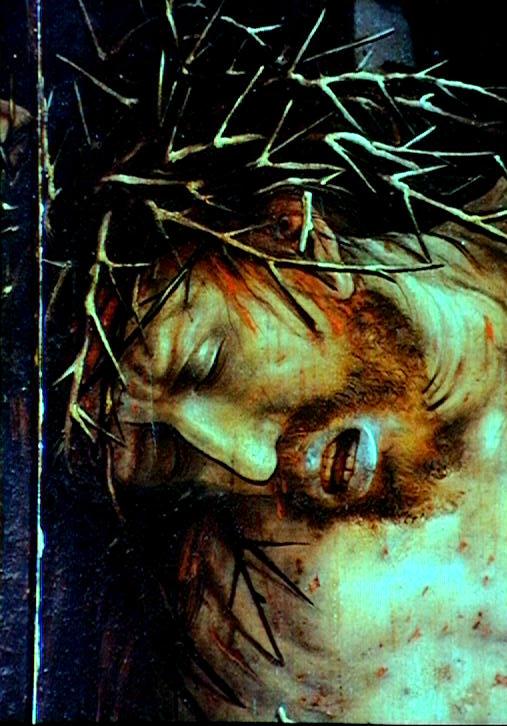 My savior,
do you invite me to share
in the glory of the resurrection?
Please stay with me
as I struggle to see
how accepting the crosses of my life
will free me from the power
of the one who wants only
to destroy my love and trust in you.
Help me to be humble and accepting
like your son, Jesus.
I want to turn to you
with the same trust he had in your love.
Save me, Lord. Only you can save me.
Third Sorrowful Mystery
The Crowning with Thorns
+Our Father+
Who has believed what we have heard? Isaiah 53:1
+Hail Mary+
He had no form or majesty that

we should look at him,
nothing in his appearance that

we should desire him. Isaiah 53:2
+Hail Mary+
He was despised and rejected by others;
a man of suffering and
acquainted with infirmity.
+Hail Mary+
Surely he has borne our infirmities
and carried our diseases;
yet we accounted him stricken,
struck down by God, and afflicted. Isaiah 53:4
+Hail Mary+
But he was wounded for our transgressions,
crushed for our iniquities. Isaiah 53:5
+Hail Mary+
He was oppressed, and he was afflicted,
yet he did not open his mouth... Isaiah 53:7a
+Hail Mary+
Like a lamb that is led to the slaughter,
and like a sheep that before its shearers is silent,
so he did not open his mouth. Isaiah 53:7b
+Hail Mary+
It is for your sake that I have borne reproach
that shame has covered my face. Psalm 69:7
+Hail Mary+
Insults have broken my heart,
so that I am in despair. Psalm 69:20a
+Hail Mary+
I looked for pity, but there was none;
and for comforters, but I found none. Psalm 69:20b
+Hail Mary+
+Glory Be+
+Oh My Jesus+